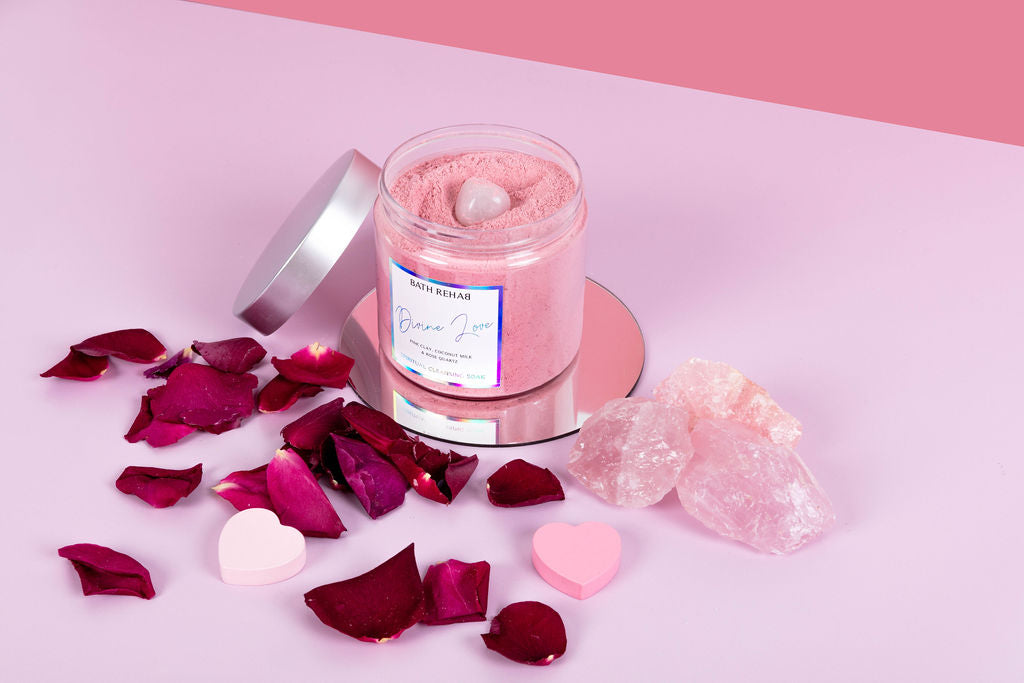 Taking a long, calming bath is one of the most incredible things you can do for a tired and stressed body. However, they can also be fantastic for your mind and spirit. 
Made famous by the Ancient Romans, ritual baths and now spiritual cleansing baths can help you reset your energy and dose into a mediative state. The incorporation of crystals into your bath is said to permeate the bathwater with its healing powers. So rather than just holding a crystal to your body, you can engulf your entire body in healing energy. 
As lovers of crystals and spiritual cleansing, we wanted to bring you a product close to our hearts. One that takes you out of this world and leaves your skin feeling soft and refreshed. Introducing Divine Love, our new spiritual cleansing soak/ bubble bath / new best friend.
We set out to create a bath soak that embodies a ritual bath for us. Crystals, coconut, bubbles, salt, and clay make this a triumph in our eyes! 
Rose Quartz 
For our first cleaning soak, we couldn't not start with the stone of universal love. This crystal encourages unconditional self-love, forgiveness and self-worth, while opening the heart, dispelling negativity, and replacing it with loving vibes. 
Coconut Milk 
Coconut milk is rich in skin-loving fatty acids that will plump your skin and make it feel smooth and dewy.
Himalayan Salt
This salt restores the skin's cells by removing dead ones and absorbing them into the layer of your skin as a protective shield. 
Australian pink clay
The gentlest of clays help soothe and rehydrate dry and sensitive skin, balancing and energising.